Turn your clocks back around the early 2000's and you'll find Major League Soccer on the verge of extinction. Teams folding, weak crowds and a marketing campaign that was clearly in disarray. Even on the backs of the United State's impressive 2002 World Cup run, MLS was a bit lost. Recently though, MLS has gone through a resurrection. Attendance is up and climbing, viewership is increasing and the quality of the sport in America is improving. Most teams seem to have an idea of what they have and where they are going. Academies are forming, college standouts are developing and impressive talent is being imported. Yep, things are looking up. Here are five things though that Major League Soccer is doing right as an organization and as a service to their fans.
1. MLSSoccer.com
. The website has been reconstructed and is in the process of another beta overhaul (Ramos.MLSsoccer.com). In recent years MLS has recognized that their previous efforts to sell the league haven't gone as well as they'd like. Seemingly, they've taken matters into their own hands and found that running a high quality website with high quality content is more effective than patronizing FSC and ESPN.
Well kudos, because it's working. For all things Major League Soccer, go to their website. It's managed well and incorporates a variety of viewpoints. Bonus points for checking out The Daily, a go to for the quick and casual fan.
Now you can watch this: Online!
2. Matchday Live.
This service allows its followers to view games live and in HD via the internet. Not only that, but purchasers can watch up to three games at one time…live. Early adopters were able to pick this service up for $40 (later adopters can pick it up at $60). That's less than a solid date. Matchday Live provides over 200 games. This gives the league a chance to showcase its sellout crowds and soccer specific stadiums more often than ESPN or Fox Soccer allows them. If you're consider yourself a modest fan of MLS and are someone who has steady access to streaming internet, do yourself a favor and pick this up. [As a side recommendation follow @SchlosserChris and @MLSonTV on Twitter for tech help
and finding games on Matchday Live]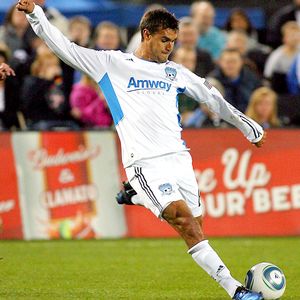 Chris Wondolowski
3. Extra Time Radio
.
A bi-weekly radio show in which the on air personalities are educated, boisterous, humorous and highly opinionated? Love it. Each week they get into the news, investigate stories and most importantly: they argue. Conflict on the show about conflict within the league makes more great radio. In the way that The Daily provides for the casual fan, Extra Time Radio provides for the more dedicated. Check out extratimeradio.buzzsprout.com or search for it on iTunes. (@ExtraTimeRadio if you enjoy the Twitter world)
4. The Reserve League. Thank you to MLS Golden Boot winner Chris Wondolowski for proving my point. The mercurial San Jose forward struck 18 times last season to win the league's scoring title. Wondolowski honed his skills in the previous iteration of the reserve league. There are more success stories throughout the league, perhaps not garnering the same publicity or the same level of good vibes, but they're there nonetheless. The return of the reserve league marks a moment of opportunity for Major League Soccer. Whilst the lower tier(s) of American soccer are left in languid states of flux, the new reserve league gives each team of MLS the chance to give players minutes under their own watchful eyes as oppose to loaning them out to the NASL or even USL Pro. Players such as Tyler Lassiter of the New York Red Bulls or Omar Salgado of the Vancouver Whitecaps represent young, raw talents in need of pro minutes. That said, if you're Hans Backe are you going to put Lassiter, an NC State standout defender, on the backline to stop the likes of Landon Donovan, Charlie Davies, Freddy Montero or Omar Bravo? Likely not. Giving players like this a chance to develop and be coached by their own teams against other pros will ultimately prove extremely beneficial as Academies create more prospects. Keep an eye on it folks, this is where your future national teamers will be.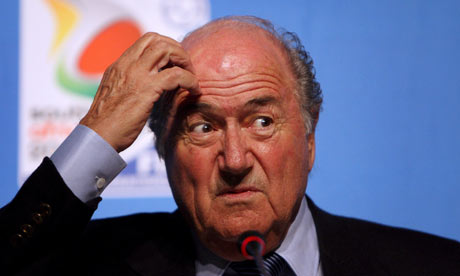 Making FIFA Sad. Awesome.
5. Disappoint FIFA
. Rarely does blatantly ignoring the governing body of your sport become a positive. That said, MLS got this one right in a big way.
During the World Cup bid process, Don Garber suggested that shifting the league's schedule to more closely align the rest of the rest of the world was a possibility. As many suspect, this was likely an attempt to gain favor in light of USA's bid. In reality though it was a bad idea and as soon as USA lost their bid MLS shed light that they would keep their schedule. It's a damn good thing too. MLS, in its 16
th
year, is competing against all other sports in the United States along with tops leagues such as La Liga and the English Premier League. In some cases, these are direct competitors and in some not. Bottom line, soccer in America wouldn't survive if it had to compete against the NBA,NHL,
NFL, and MLB all simultaneously. By keeping the summer schedule, they remove some of this competition, which allows sponsorship dollars, TV air time and players from Europe to arrive at the end of their seasons. Props to MLS for realizing this and sticking to their guns. It's a move that shows MLS has its best interests at heart.
Thoughts on this? Feedback? Surely MLS has done more than five things right recently. Hit the comments below or tweet them out. Fear not though, for you pessimistic people out there, you'll have a list of five things MLS has done wrong in no time.